How to remove the annoying hood latch brace
I picked up some 1/2" steel tubing from a metal recycling shop. Measured it across the mounting points I picked on top of the bumper mount and added a couple extra inches. You can always trim it later if necessary.
After this was finished, it was strong enough to pull the car by. No flexing at all. This is a great way to open up the front of your EVO bumper or allow more airflow to your radiator
Before
I drilled out the spot welds to remove the stock brace
Here is the overall design
Here is the middle hood latch mounting point
Pick up short bolts, locking washers, and nuts that fit the mounting hole in the bottom of the latch. Cut the rod to legth, mark the middle mounting point and hammer it flat with a sledge hammer (against concrete, an anvil, anything hard and flat)
Drill a hole in the middle of the hammered area (the side you hit with the hammer will probably fit better if it faces the radiator) Run a bolt throught the latch and then mark the two side bolt mounting points
Unbolt the latch mount, beat the sides flat, and rebolt the middle latch mount. Check the fitment, bend the bar as necessary, and then mark the final two holes to drill. Remember, the bar has to line up perfectly or else the latch will not work right
After drilling and testing fitment, spray the bar with some spray paint and it is all ready.
---
Here are some additional pictures showing a slight variation on these instructions.
Part of the hood latch brace was left for the latch to bolt to and the bar is not painted yet. We also show that you can use a vise or just beat the bar into the shape you need on any hard surface.
Measuring for where to flatten and drill
Lots of trial and error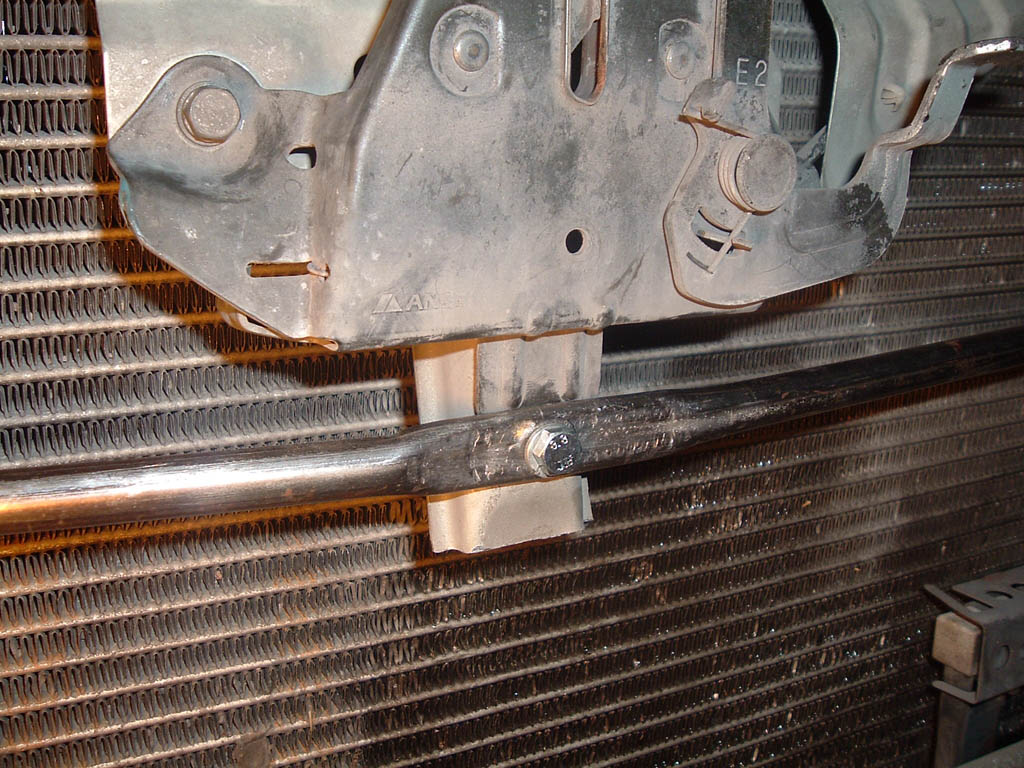 Bar Installed
No more visible hood latch support bar in front of the AC condensor
Top View